Academic Counseling Programs
Here is a little bit about each of our NCC programs of study: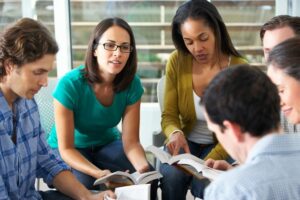 At New Creation College we are in the business of shaping men and women who are not only successful in this field, but who also exhibit compassion, integrity, who want to give back to their communities and who embrace diversity. This is what our program is founded upon, and this is the commitment that we make to all of our students' educations.
Welcoming students from all backgrounds and experiences, we find that our inclusive acceptance policy allows for an incredible campus population; this in turn makes NCC's program of study that much more dynamic. In our Substance Use Disorder Counseling program, we train the leaders in a growing industry which is more and more important to the nation's quality of life. Those who enter with real life experience, whether or not they have college experience, often make the most qualified and successful candidates, and subsequently go on to realize fulfilling careers.
Chemical Dependency Counseling
A growing problem in this country, substance abuse has destroyed and even taken the lives of far too many. We wish to train counselors who are compassionate, caring and hard working as they face the challenges inherent to this growing field. Our program consists of both a rigorous classroom component and a hands-on field training portion as well. We firmly believe that the best counselors are those who have actually received a fair amount of real-world training. This is also why we hire instructors who have both academic and on-the-job knowledge, as they are entrusted with supporting and guiding NCC students through the nuances of this field.
The course schedule for the SUD program consists of instruction in the basics of addiction and drug pharmacology, the 12 core functions of counseling including case management, basic counseling skills and methods, chemical dependency and the family, ethics and the law, treating special populations, counselor growth and burnout prevention, therapeutic theories and techniques and relapse prevention.
New Creation College works to prepare our students to gain entry-level employment in this specialized counseling field. Going on to procure jobs in a variety of venues and treatment settings, our graduates are truly out there making a difference in the lives of those who are clinging to hope.
We welcome you to check out New Creation College's challenging and rewarding program. Our philosophy, our mission and our goal is to guide you through the educational program and see you into a fulfilling work environment. Designing our programs with this objective in mind, we have been graduating students who rise to become some of the best and brightest in this field, and we know that we can help you to achieve the same.