Tailoring our programs to our student body is something that we do quite well.
New Creation College offers small class sizes. We believe in meaningful student-teacher interaction, and we know that the best way to accomplish this is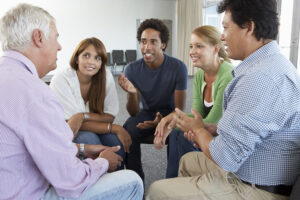 to provide an environment small enough so that every voice is heard, every idea effectively shared, and yet also diverse and dynamic enough to make for a richly educational setting.
Allowing for individualized attention for every student enrolled, lower class sizes provide for more customized instruction. Everyone learns differently. Studies have been conducted demonstrating the efficacy of various types of educational methodologies. Our faculty and staff understand the nuances that go hand in hand with instructional practice, and they bring their years of experience to bear in the classroom, pinpointing their students' strong points and helping them through the more difficult challenges.
Instructors devote significant time to instructional activities and are also available for student support during their assigned office hours. Meetings with instructors outside the classroom have proven invaluable as far as furthering and fostering the educational ideals that NCC upholds. If additional or extensive tutoring is required, arrangements can be made with the faculty. Every effort is made to ensure that each student receives the most comprehensive education available. And when students do struggle on occasion, those individuals can readily receive help.
During the practicum (hands-on) portion of our educational program, close supervision and coaching is provided by qualified leadership whether in the field or in the lab. NCC believes strongly in field experience, and yet we want to ensure that it is a carefully supervised experience. Our job is to prepare men and women to enter the workforce with confidence and the in depth knowledge necessary to succeed. Supervised practicums are a critical part of the overall program.
We know that our methods work. Reviewing detailed student evaluations, we see that students prize both the classroom work and the field training, and are consequently thankful for the support and education they receive at NCC. We also pay close attention to student feedback and whenever necessary make adjustments accordingly. All of New Creation College's programs are geared toward maximizing educational value and integrating this with the best possible field training methods available today. This is why we have had so much success in terms of our substance abuse counselor training.