New Creation College was built upon the ideal of creating fulfilling careers for the most diverse range of students possible.
New Creation College's staff and faculty are dedicated to providing not only the best services to our students, but the greatest sense of academic community.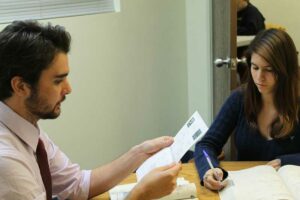 Our job is to give you every opportunity to build a life and career so that you, in turn, can reach out and help others. The Administrative services we have here are put into place to ensure that our mission can be achieved and our programs run smoothly for the entirety of the student body.
Some of our offices at a glance include:
Admissions
Our admissions policy is very different from what you will find at a traditional college or similar institution.  We evaluate all of your life experiences, work history and even your personal story.  At New Creation College the emphasis is on the individual and what he or she is capable of accomplishing. Our Admissions office, you will find, is certainly flexible and accommodating on many different levels. Additionally, the Admissions office will handle transcript requests, transfer credits and any other such material.  Simply contact them by phone or by email for more information.
Faculty and Staff
We pride ourselves on possessing dynamic and thoroughly engaged faculty and staff here at New Creation College. We work to provide them with the resources necessary to perform their jobs to the optimal level.
So what is New Creation College – what we all about:
A commitment to helping others in need. We work to help them set goals and ultimately realize the achievement of those goals.
An investment in our student body, one that takes into consideration all that a student is capable of, not strictly grades and scores.
A fair, ethical, humane and compassionate attitude towards all people regardless of race, gender, social/economic status, political or religious beliefs.
A diverse approach to campus life and education. We embrace people from all walks of life; our campus is therefore among the most diverse and richly enhanced in the region.  We know that this contributes to a much fuller and enlightened educational experience.
A focus on field training as well as classroom study and interaction. A truly complete educational experience consists of both theoretical and methodological study alongside of hands on practicums and training exercises.  In both programs we offer, we provide just this comprehensive approach to instruction.
Faculty that have been involved in their fields from more than just a theoretical perspective. Our faculty members have been a part of their industries in vital and meaningful ways and consequently understand the nuances of their respective fields from an insider's perspective.  They also have incredibly valuable connections that benefit NCC's student body.