Are you looking for a rewarding career in helping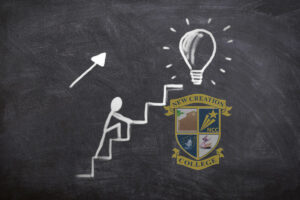 others? Consider getting your addiction certification from New Creation College, where you can learn how to treat people suffering from addiction to drugs and alcohol. You can make a real difference in people's lives and can earn good pay after graduating from our addiction certification programs.
But you may be wondering what kind of jobs might be out there when you graduate. Let's look at some of them.
Substance Abuse and Behavioral Disorder Counselors
According to the Bureau of Labor Statistics, Substance Abuse and Behavioral Disorder Counselors are in high demand. They expect a 22 percent growth from 2014 to 2024. These counselors specialize in helping people with drug addictions, alcoholism, and other problems. You may work in a variety of places including community health centers, mental health centers, substance abuse treatment facilities, private practices, and prisons. You will help treat and support those afflicted with addictions.
Social and Human Service Assistants
Another potential job you can use the training from our addiction certification programs is a social and human service assistant. A social and human service assistant helps people in a number of ways. You will have clients who need help but may not know how to get it. You will help clients find the aid that they need and even develop a drug treatment plan so that they understand the steps they must take to become sober. You can coordinate services to help your clients as well as research what services are available to your clients. According to the Bureau of Labor Statistics, the social and human service assistant jobs are growing 11 percent growth, which is faster than many other jobs.
Social Worker
Another job you may wish to consider is that of a social worker. You may need a bachelor's degree for this position, but the training in our addiction certificate programs will serve you well. As a social worker, you may be able to diagnose and treat substance abuse and mental health issues. You will also work for clients who need help in obtaining benefits. You may also work on child abuse cases and provide psychotherapy services. Social worker jobs are expected to increase by 12 percent which is much faster than the national average.
Other Avenues for Your Certificate
You may find other jobs with your certificate such as working as a counselor for private medical clinics or maybe a job in the government advising laws governing addictive drugs and alcohol within your community. Maybe you can work on a task force to reduce gambling addictions, hoarding, and other behaviors associated with addiction. Once you have your certificate, you can prove you are an expert and knowledgeable about addiction and recovery.
No matter what way you choose to utilize the knowledge you've gained, you will feel good about providing a service to your fellow human beings. You will share in their triumphs as they work toward getting rid of their addictions and become productive members of our society.
Going through our addiction certification programs isn't easy, but you will accomplish so much more than just a piece of paper. Contact us today about our certification programs.